MOMO Challenge
MOMO Challenge
27 February 2019 (by Miss Routledge (Admin-Routledge))
IMPORTANT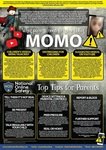 Recently, through social media you made be aware or heard of the Momo challenge. It has been around for a long time but recently resurfaced and is being named 'the suicide killer game'. It's linked with apps such as Facebook, WhatsApp, YouTube and YouTube kids. It's a scary doll like figure that sends graphic violent images and asks users to take part in dangerous challenges. For example, the character might dare a child to turn an oven on at night. These dares then quickly escalate in severity to things like self-harming. It is believed there has been a suicide of an 11-year-old child linked to this challenge in Wales recently.
Primary aged children shouldn't have access to Facebook, WhatsApp or YouTube but this character is being seen in the middle of child friendly videos on Youtube and Youtube Kids. So primary aged children may be harmlessly watching a video that we would deem as safe (like Peppa Pig or toy reviews) but then part way through the Momo character appears and sets the dare. The character warns the child not to tell anyone and talks about killing people if they do. Even though YouTube monitors and removes videos which include inappropriate content, clips can be viewed thousands of times before they get reported or removed.
The only safe advice we have regarding the use of tablets, phones and computers is to only use educational apps that are downloaded.
Previously we have advised to use You Tube kids but at present it seems this is no longer safe.