WELCOME TO
Diamond hall infant academy
School Uniform Ordering Website - Emblematic
If you would like to order school uniform for your child/ren, we have a direct link to Emblematic, where you order online and the uniform will be delivered to the Parent/Carers home address and it is free delivery too for any orders made before 1st July 2020.
Please click on this link: https://studentuniform.co.uk/dhi009/ to take you straight to our school's Online Ordering Website.
Year 1 Returning to school
'' It was absolutely brilliant to see some of our Year 1 children return to school this week. Everything went really well - the children adapted so quickly to the new ways of keeping everyone safe. They were great and said some really positive things - ''I liked today when we made jelly fish, I liked playing the Beans on toast game with my friends" (a socially distanced game which is great fun). Another child said on going home - "I had a really good day".

Thank you to parents who followed all our safety guidance. You were brilliant too.

We would love to welcome back more Year 1 children so if we can help with any questions as to how we are keeping the children safe in school, please ring the school office on 0191 5640222 and ask for Mrs Collingwood, Mrs Park or
Mrs Lynch. Thank you.
Dear Parent / Carer -
I just want to update you about our wider opening plans. We will open for Year 1 children from Mon 8 Jun. This will be on a rota basis. We will phone Year 1 Parents this week to talk about our plans and see what you think you will do.
Thanks DHIA
Re-Opening
Please see letter on the website on the front page on the left hand side or in the More Tab, Parents Info, Letters re Re-Opening after Prime Ministers Announcement, please take the time to read this, many thanks DHIA
Below you will find a link to a useful video, which parents may wish to watch with their children, explaining to them the current situation around Corona Virus. The video attempts to explain in a child friendly way why the children are unable to attend school and visit family and friends at the moment. We hope you enjoy it and find it helpful....
https://www.youtube.com/watch?v=5DlOGKpMNs4&feature=youtu.be&app=desktop
Hello children, parents and carers!
We hope you have had a good Easter and have been enjoying some of the good weather! The staff have had a nice time but wish we were getting ready to start the Summer term together. We are missing you and we thought you might like to see some of the things we are doing in our time at home. Watch this video and you will see lots of familiar faces. I wonder how many faces you will recognise? I think some of you will know them all! You might even recognise the song - sing along if you do! :)
Stay safe and take care!
Key Worker Information
Following much confusion over the last few days regarding Key Workers and sending children to school, we would like to clarify that you should not be sending your children to school unless this is absolutely necessary. The message from the government is clear, unless your work is critical in the response to Coronavirus and you have no alternative care for you child, then please keep your child at home. If you have previously asked us to care for your child and you no longer require the place as you have managed to make alternative arrangements, please ring the main school office and leave a message on the school's answerphone to let us know.
Free School Meals
A national supermarket voucher scheme for those entitled to means tested Free School Meals is being rolled out. These vouchers will only be available during the normal term time and will not be available over the Easter break. We therefore need an email address to send the voucher to you. Please email enquiries@diamondhallinfantacademy.co.uk with a working email account which you have access to, to enable us to do this.
If you are not currently entitled to Free School Meals but think that you should be, please see the the criteria below.
Your child might be able to get free school meals if you get any of the following:
Income Support

income-based Jobseeker's Allowance

income-related Employment and Support Allowance

support under Part VI of the Immigration and Asylum Act 1999

the guaranteed element of Pension Credit

Child Tax Credit (provided you're not also entitled to Working Tax Credit and have an annual gross income of no more than £16,190)

Working Tax Credit run-on - paid for 4 weeks after you stop qualifying for Working Tax Credit

Universal Credit - your household income must be less than £7,400 a year (after tax and not including any benefits you get)
Applications can be made via the Sunderland Family Portal: https://emsonline.sunderland.gov.uk/CitizenPortal_LIVE/Account/Login?ReturnUrl=%2fCitizenPortal_LIVE%2f
If you aren't sure if you are eligible, please contact one of the Free School Meals team on 0191 561 1417 or email them: freeschoolmeals@togetherforchildren.org.uk
Parent/Carer Information

We have been informed by other local schools, that some parents are receiving emails stating the following: 'As schools will be closing, if you are entitled to free school meals, please send your bank details and we will ensure you are supported'. We would like to confirm that this is a scam and if you do receive an email like this, please delete it immediately. Thank you. School Office
Parent / Carer Supervision
Reminder to all Parent/Carers, you MUST NOT leave your child/children on the year without supervision at all times. Thanks.
Driving around school
Reminder - all Parents/Carers to be extremely careful when parking and driving around school. Our children are very small and are not easily seen. Thanks.
Bookbags
Please can Parent/Carers remind their children daily if there are letters / money etc in their bookbag, please hand these to their class teacher. Thanks.
Parent/ Carer Addresses
Please can Parent/Carers ensure that school has the correct address for their child, as letters etc can be posted to the home address. Thanks.
Pierced Ears
If your child has their ears pierced, please ensure they ONLY wear stud earrings and not hoop earrings to school. Thanks.
School Menu
The school menu is on the school website should you wish to view.
If you click on the tab at the top:
More

Parents Info

School Meals
Safety Around Dogs
We have talked with the children about how to keep safe around dogs. Please look at the leaflet brought home by your child.
NSPCC
NSPCC came to talk to us about keeping ourselves safe. We learnt that if anything makes us feel sad or worried we should always 'Speak Out and Stay Safe'.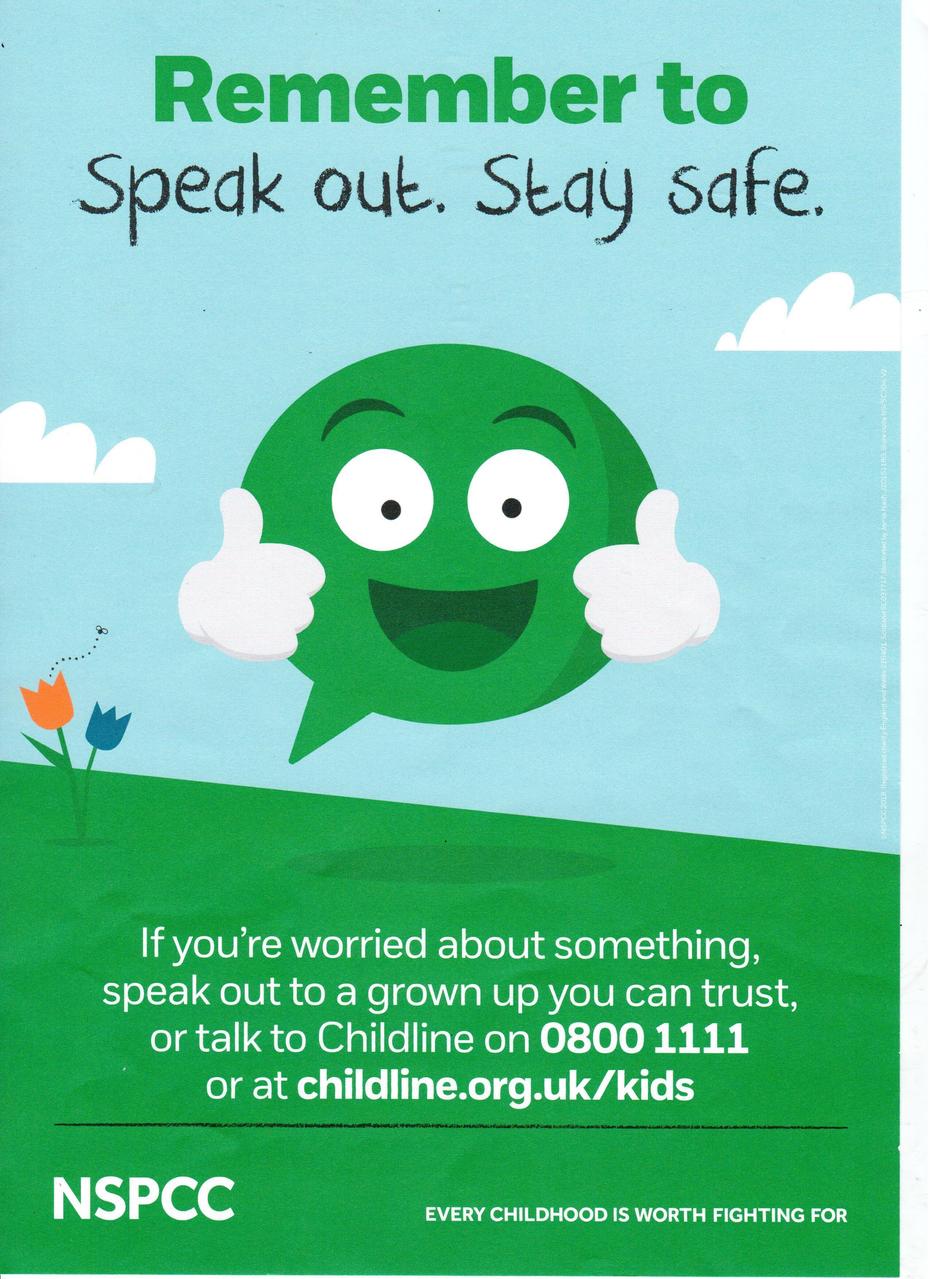 School Mobile App
DHIA have a new school mobile app. Flyers have been sent home but should you need instructions to download this app, please see the website front page - Letters, or the school app - Letters Home icon....
Latest School Calendar Events
There are currently no events.
Calendars page(s): School Calendar >>