Don't miss - Brilliant Exhibition
Don't miss - Brilliant Exhibition
17 July 2018 (by Miss Routledge (Admin-Routledge))
Exhibition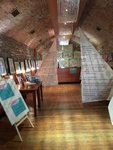 Children's art from Year 1 and Year 2 at the Quayside Exchange. Inspired by the Tall Ships Historic visit to Sunderland. While you are visiting the Tall Ships call in to the Quayside Exchange. Your in for a treat. Open from 11th to 17th July 10:00am-10:00pm. Joining us in the Exhibition are Ryhope Infant Academy and Rickleton Primary School.
Quayside Exchange - 197 High Street East, Sunderland.
Go in the front entrance, down the stairs, and turn left, through a bar and then into the 3 rooms of the exhibition.
DHIA Art Exhibition
Just to wet your appetite ! Some pictures of our first art exhibition in a public place . Don't miss it . I'm really proud of what we have all achieved . As good as the Tate !